Free Worldwide Delivery
Collect In Store Monday-Friday
Simple no quibble returns policy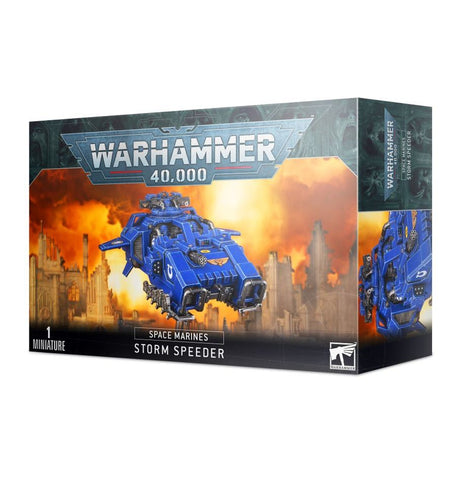 Games Workshop - Warhammer 40,000 - Space Marines: Storm Speeder
A fast-moving war machine for your Space Marines

Designed to break through defensive fortifications

Can instead be built as a Hailstrike or Thunderstrike
The Hammerstrike excels at rooting out enemies from trench and bunker networks. Sweeping low over the battlefield, it employs searing melta blasts and volleys of rockets to crack the foe's defence lines wide open.

A Storm Speeder Hammerstrike bears weapons designed to bore through thick armour and destroy bunkers. Take this Storm Speeder variant if you're likely to be facing a dug-in foe with lots of fortifications to deal with.

This kit includes 94 components that can be used to build a Storm Speeder Hammerstrike armed with a hammerstrike missile launcher, two krakstorm grenade launchers and a melta destroyer. The gun platform can be built to move – intimidate your opponents by having your heaviest weaponry pointing right at their units!

This kit can instead build the Storm Speeder Hailstrike or Storm Speeder Thunderstrike. It is supplied with a Citadel 90mm Round Base and a Flying Stem.
---