Free Worldwide Delivery
Collect In Store Monday-Friday
Simple no quibble returns policy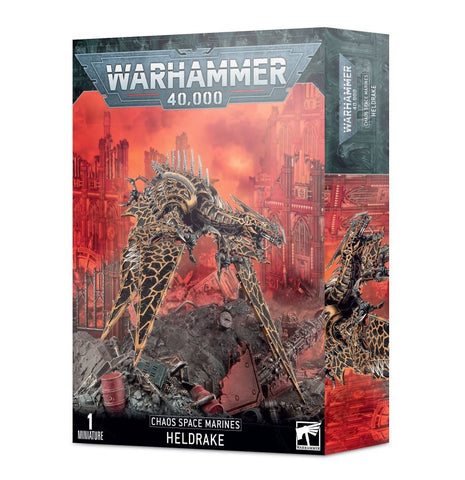 Games Workshop - Warhammer 40,000 - Chaos Space Marines: Helldrake
A cruel daemonic Flyer for Chaos Space Marines, Thousand Sons, and World Eaters armies
Harass foes with mouth-mounted guns - a hades autocannon or fiery baleflamer
Descend from the skies and rip enemies to shreds with machine claws
Heldrakes are winged daemon engines that plummet out of the skies like living comets, hurtling towards enemy aircraft and crashing claws-first into them from above. A Heldrake takes cruel joy in diving down upon unsuspecting aerial assets, tearing them from the sky and murdering the crew. Once its dominance of the sky is complete, the beast turns its weapons against those on the ground.

This multipart plastic kit builds a Heldrake – an enormous dragon-like construct of flesh and metal. Posed as though soaring across the battlefield, the model's warped carapace is loaded with mechanical details, from trailing cables and interlocking wing-plates to small wiring and rivets, and features a crazed web of Chaotic patterns. The Heldrake's fanged mouth sports your choice of integrated weapon – a shell-spitting hades autocannon, or a baleflamer for scorching foes at closer ranges.

This kit comprises 49 plastic components, and comes with a Citadel 120x92mm Oval Base and a Citadel Large Flying Stem. This miniature is supplied unpainted and requires assembly – we recommend using Citadel Plastic Glue and Citadel Colour paints.
---