Free Worldwide Delivery
Collect In Store Monday-Friday
Simple no quibble returns policy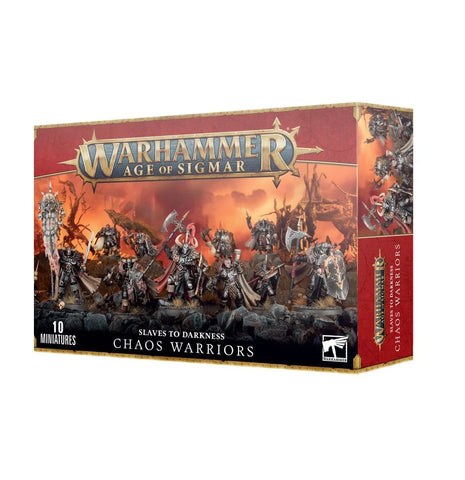 Games workshop - Age of Sigmar - Slaves to Darkness: Chaos Warriors
Muster an elite armoured Battleline for your Slaves to Darkness army
Builds 10 Chaos Warriors, armed with runeshields and a choice of weapons
Forge your legion with interchangeable heads, weapons, and shields
Chaos Warriors are the bane of the Mortal Realms, clad in hellforged iron and swollen with dark blessings. Entire legions of these armoured killers march to battle in search of divine favour, sworn by bloody rituals to the service of a mighty warlord. Each Chaos Warrior is the equal of several lesser mortals, and each harbours ambitions to become mightier still.

This multipart plastic kit builds 10 Chaos Warriors – the armoured core of the Everchosen's legions, formidable on the defence and fearsome on the assault. Each Chaos Warrior carries a Chaos runeshield, and can be armed with either a murderous weapon – in the form of a sword, axe, maul, or hammer – or a long-handled, ensorcelled halberd. The kit also provides components to build one model as an Aspiring Champion with a unique murderous weapon and a choice of unique heads, as well as a Hornblower musician and a Standard Bearer with a choice of two banners and two Chaotic sigils.

The kit includes a wide variety of different helmets, bare heads, poses, runeshields, weapons, and halberd heads, all of which are entirely interchangeable – allowing you to ensure your Chaos Warriors look totally unique no matter how large your Chaotic legion grows.

This kit comprises 97 plastic components, and is supplied with 10x Citadel 32mm Round Bases. These miniatures are supplied unassembled and unpainted – we recommend using Citadel Plastic Glue and Citadel Colour paints.
---