Free Worldwide Delivery
Collect In Store Monday-Friday
Simple no quibble returns policy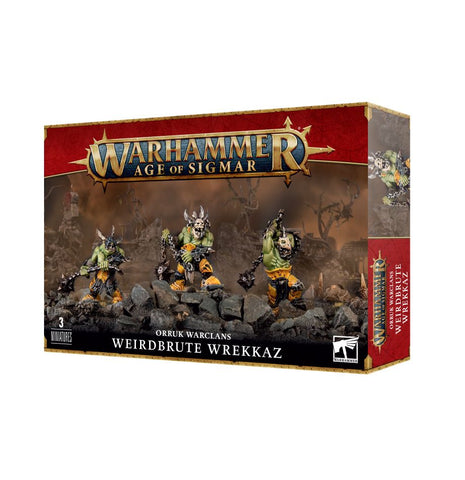 Games Workshop - Age of Sigmar - Orruk Warclans: Weirdbrute Wrekkaz
Waaagh!-maddened Ironjawz berserkers for Orruk Warclans armies
Builds three Weirdbrute Wrekkaz with chain-smashas and a variety of masks
Can alternatively be built as Brute Ragerz wielding clubs, blades, and flails
Weirdbrute Wrekkaz carve a path of destruction through the enemy lines, sent into a frenzy by the Waaagh!'s anarchic energy. Their strange Weirdbrute masks pulsate with the same maddening power, numbing the Wrekkaz to all but the most grievous of wounds and ensuring they can unleash absolute carnage upon the foe in all directions before they are finally laid low.

This multipart plastic kit builds three Weirdbrute Wrekkaz – berserker orruks infused with magical madness. These fearless fighters race into battle without the heavy breastplates worn by most Ironjawz, wielding deadly chain-smasha flails. Each Wrekka wears a terrifying Weirdbrute mask of iron and bone – the kit includes six different masks for your orruks, allowing you to customise your maniacal mob.

This set can alternatively build three Brute Ragerz, armed with a variety of heavy two-handed weapons.

This kit comprises 50 plastic components, and comes with 3x Citadel 40mm Round Bases. These miniatures are supplied unpainted and require assembly – we recommend using Citadel Plastic Glue and Citadel Colour paints.

Rules for using these miniatures in your games of Warhammer Age of Sigmar are available as a free download on the Warhammer Community website.
---