Free Worldwide Delivery
Collect In Store Monday-Friday
Simple no quibble returns policy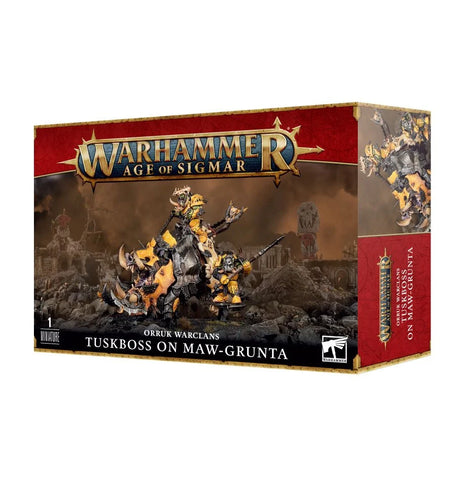 Games Workshop - Age of Sigmar - Orruk Warclans: Tuskboss on Maw-grunta
A mighty mounted Ironjawz leader for your Orruk Warclans army
Lead the charge as you trample enemies and smash foes aside
Alternatively builds a Maw-grunta with Hakkin' Krew, or a Maw-grunta Gouger
To be a Tuskboss, an orruk must claim mastery over a particularly ferocious Maw-grunta – an utterly monstrous hog, with enough brute strength and dim-witted determination to batter through anything in its path. These mounted warlords lead the charge by steering their stampeding behemoths straight into the enemy lines, striking down foes left and right as the beast barrels forward with explosive impact.

This multipart plastic kit builds a Tuskboss on Maw-Grunta – a fearless Ironjawz leader riding a porcine monstrosity. The Tuskboss steers his massive mount with a pair of thick chains, keeping a vicious pig-hacka strapped to his belt for close combat. He's joined by a hakkin' krew – two orruks chained to the sides of his steed, swinging huge kill-choppas to carve a path for their boss. The Maw-grunta crushes foes beneath its trampling trotters or gores them on its mighty tusks, protected by heavy armour – including intimidating head plates and tusk-mounted blades. It can also be adorned with an optional nose-ring.

This kit can alternatively build a Maw-Grunta with Hakkin' Krew, or a Maw-grunta Gouger.

This kit comprises 81 plastic components, and comes with a Citadel 120mm Oval Base. This miniature is supplied unpainted and requires assembly – we recommend using Citadel Plastic Glue and Citadel Colour paints.

Rules for using this miniature in your games of Warhammer Age of Sigmar are available as a free download on the Warhammer Community website.
---