Free Worldwide Delivery
Collect In Store Monday-Friday
Simple no quibble returns policy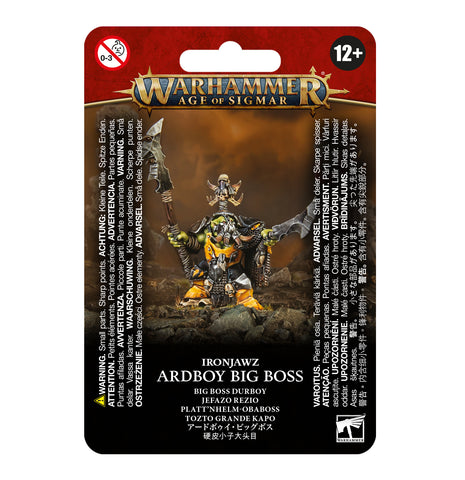 Games Workshop - Age of Sigmar - Orruk Warclans: Ardboy Big Boss
A formidable Ironjawz leader for your Orruk Warclans army
Eviscerates foes in close combat
Commands hordes of armoured Ardboys with brutal discipline
Ardboy Big Bosses are veteran Ironjawz with an eye for the battlefield and enough bellowing presence to browbeat their lads into line. Only the toughest of Ardboys survive long enough to become a Big Boss – these formidable warriors can turn a boisterous orruk horde into a disciplined killing machine that advances in a semblance of formation before crashing into the enemy like an armoured fist.

This multipart plastic kit builds an Ardboy Big Boss, a heavy-handed commander of the Ironjawz clans. This hulking orruk is armed with a boss-hacka polearm and jagged choppa – all the better for bashing and butchering any foes who test his might. His heavy armour and fearsome muzzle fit perfectly with the Ardboys he leads to battle, and his back-mounted icon helps him stand out from the ranks even more.

This kit comprises eight plastic components, and comes with a Citadel 40mm Round Base. This miniature is supplied unpainted and requires assembly – we recommend using Citadel Plastic Glue and Citadel Colour paints.

Rules for using this miniature in your games of Warhammer Age of Sigmar are available as a free download on the Warhammer Community website.
---